Template-based intervention in Boolean network models of biological systems
EURASIP Journal on Bioinformatics and Systems Biology
2014
2014:11
Received: 15 January 2014
Accepted: 14 May 2014
Published: 19 July 2014
Abstract
Motivation
A grand challenge in the modeling of biological systems is the identification of key variables which can act as targets for intervention. Boolean networks are among the simplest of models, yet they have been shown to adequately model many of the complex dynamics of biological systems. In our recent work, we utilized a logic minimization approach to identify quality single variable targets for intervention from the state space of a Boolean network. However, as the number of variables in a network increases, the more likely it is that a successful intervention strategy will require multiple variables. Thus, for larger networks, such an approach is required in order to identify more complex intervention strategies while working within the limited view of the network's state space. Specifically, we address three primary challenges for the large network arena: the first challenge is how to consider many subsets of variables, the second is to design clear methods and measures to identify the best targets for intervention in a systematic way, and the third is to work with an intractable state space through sampling.
Results
We introduce a multiple variable intervention target called a template and show through simulation studies of random networks that these templates are able to identify top intervention targets in increasingly large Boolean networks. We first show that, when other methods show drastic loss in performance, template methods show no significant performance loss between fully explored and partially sampled Boolean state spaces. We also show that, when other methods show a complete inability to produce viable intervention targets in sampled Boolean state spaces, template methods maintain significantly consistent success rates even as state space sizes increase exponentially with larger networks. Finally, we show the utility of the template approach on a real-world Boolean network modeling T-LGL leukemia.
Conclusions
Overall, these results demonstrate how template-based approaches now effectively take over for our previous single variable approaches and produce quality intervention targets in larger networks requiring sampled state spaces.
Keywords
Boolean networksAttractorsLogic minimizationInterventionLeukemia
Methods
As the number of variables in a biological interaction network increases, the more likely it is that a successful intervention will require multiple variables. In fact, in our work in AI planning [18], we found that a planned sequence of interventions was an effective way to transition to a desired steady state. Our previous measures of popularity and power are capable of identifying multiple high-value intervention targets separately in smaller networks. In this section, we will introduce intervention templates to take into account the multivariate effects of gene regulation and propose an approach to address larger networks. We will be faced with several challenges such as: (1) how to consider many subsets of variables in each basin of attraction, (2) to design clear methods and measures to identify the best template-based intervention targets in a systematic way, and (3) to work with an intractable state space through sampling to cope with larger networks. We end by outlining a robust simulation study designed to illustrate achievement in these three areas.
Results
Next, we present the results of the simulation study described in the Methods section, which reveals the ability of template-based interventions to maintain performance between exhaustive and sampled state spaces and also in increasingly large random networks with sampled state spaces. We then provide a demonstration of the approach on a real-world network modeling T-LGL leukemia, originally hand-created by domain experts.
Simulation study for template methods
In order to demonstrate the robustness of template-based interventions, we present the results of the simulation study described in the 'Methods' section. The study addresses two main questions: (1) what effect does the change to sampled Boolean network state spaces have on the performance of template-based interventions? and (2) what effect does increasing network size have on the performance of template-based interventions? To address these questions, we analyze hundreds of randomly generated Boolean networks for which we compare performance of single-variable measures and the variations of the new template-based approach.
The effect of sampling on template interventions
To address the challenge of whether or not template-based approaches remain robust as we transition from a fully enumerated state space to a sampled one, we compare the performance of each measure between full and sampled versions of the 10, 12, and 18 variable networks. Since these networks are small enough to exhaustively enumerate the full state space, the comparison will provide a full assessment of any performance degradation due to sampling. For each network size, we compare the proportions of successful interventions of each type between exhaustive and sampled networks. Interventions that show a significant change in proportion between exhaustive and sampled state spaces will be noted. Success rates can be seen in Figure
3
(with Figure
3
significance values in Table
3
), for which we note the following observations: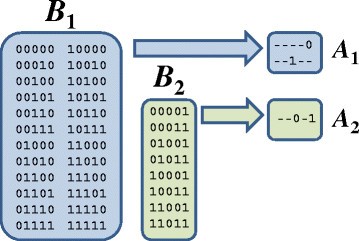 Table 3
P values for two-proportion Z -tests
| | 10E/10S | 12E/12S | 18E/18S |
| --- | --- | --- | --- |
| POP | 0.0920 | 0.4619 | 0.0000 |
| POW | 0.0013 | 0.0003 | 0.0000 |
| HPP | 0.0000 | 0.2030 | 0.0000 |
| K1TBDP | 0.0000 | 0.0000 | 0.0000 |
| K2TDBP | 0.0007 | 0.4421 | 0.0000 |
| K3TDBP | 0.0002 | 0.4391 | 0.0000 |
| K4TBDP | 0.5424 | 0.1385 | 0.0000 |
| K1FREQ | 0.2197 | 0.0002 | 0.2038 |
| K2FREQ | 0.0004 | 0.0000 | 0.3964 |
| K3FREQ | 0.2015 | 0.0000 | 0.0192 |
| K4FREQ | 0.0062 | 0.0014 | 0.2310 |
In the networks with 10 variables, 9 of 11 methods showed a decrease in performance from exhaustive to sampled, with 6 of those being statistically significant changes. Interestingly, 2 of the 11 methods showed an increase in performance, with one of those being statistically significant at the 0.05 alpha level; both of those cases involved frequency-based templates. While showing decreases in performance between exhaustive and sampling with each template size, template basin distribution percentage templates registered among the highest success proportions overall, indicating that they might be a suitable replacement for single-variable methods in exhaustive cases if the computational cost of templates can be afforded.
In the networks with 12 variables, all four template sizes for frequency-based templates showed an increase in performance in the sampled cases, with all four differences in proportions being statistically significant. All seven other methods showed visible decreases in performance, with two of them being considered statistically significant. Again, template basin distribution percentage templates had among the best performances in the exhaustive cases.
In the networks with 18 variables, we see the clear resistance of frequency-based template approaches to the side effects of sampled state spaces. With one statistically significant increase in performance and no significant decreases, frequency-based templates overwhelmingly dominate performance in sampled cases while all other methods drastically decrease.
It is very interesting to observe any increase in performance between a fully enumerated space and a sampled space. In our case, we observe this behavior because, in the sampled condition, the intervention targets are computed from a larger amount of terms. This is due to the fact that the logic minimization ability is highest when every state is known beforehand and it is hindered greatly by not knowing all basin states ahead of time. Only the templates (especially the larger ones) benefit from this situation - single-variable measures like popularity and power suffer when there are fewer don't-cares in the terms, and some template measures suffer when there are too many don't-cares (i.e., exhaustive case). Thus, while drastic logic minimization on exhaustive state spaces allows popularity and power to quickly reveal decent targets, a less effective logic minimization leaving many more terms behind after reduction benefits the template approach by providing more information from which to identify the best templates while still eliminating the least important variables. In some cases, this benefit outweighs the benefit of a full logic minimization.
While we expected to avoid recording, for template approaches, significant success proportion decreases for sampled network state spaces, we not only failed to detect that trend altogether in frequency-based templates but also in many cases detected significant increases. We also began to see the template basin distribution percentage templates as most ideally suited to smaller networks in exhaustive cases, perhaps as a more thorough alternative to the former single-variable measures. From these data, we conclude that frequency-based template methods are much more robust in sampled state spaces than their single-variable counterparts. The next step is to observe if this trend continues with increasing network size.
The effect of increasing network size on template interventions
Satisfied that template measures remain robust in networks with sampled state spaces, we now investigate larger random networks. It is expected that any measure or technique will decrease in performance as the size and/or complexity of the network increases. However, with the knowledge that the single-variable measures fail completely with sampled state spaces even for small networks, we need to be assured that template performance remains robust. We generate further random networks with 20, 25, and 40 variables, which produce state space sizes of 2
20
, 2
25
, and 2
40
. We sample these enormous state spaces with about 1% or less coverage in initial states and estimate the intervention success of the top scoring intervention targets from our 11 methods (3 classic single variable, 4 sizes of
D
templates, and 4 sizes of
F
templates). For the 40-variable network, we do not include size-4 templates for computational considerations of the simulation. In Figure
4
A, we show the performance of template basin distribution (
D
)-based templates at template sizes of 1 to 4 and the single-variable measures of variable popularity (POP), variable power (POW), and the harmonic mean of the two measures (HPP). In Figure
4
B, we show the performance of frequency (
F
)-based templates of sizes 1 to 4 against the same single-variable methods. Both subfigures show performance over networks of size 10, 12, 18, 20, 25, and 40, all with sampled basins of attraction. Error bars shown reflect the 95% binomial confidence intervals.

In Figure 4A, we observe that template basin distribution percentage templates do not consistently show significant differences in success proportions with POP, POW, or HPP. We do note that K3TDBP and K4TBDP do show significant performance over POP, POW, and/or HPP in all networks up to 25 variables, but they are significantly outperformed by their frequency-based counterparts in Figure 4B. In Figure 4B, we observe that the only time a frequency-based template does not show a significant difference in proportion is in the 10-variable network for the template with only one variable (the most extreme case); though in practice, we would not apply template analysis on such small networks. A complete separation of 95% confidence intervals surely indicates a significant separation in success proportions [33], but to further reinforce these observations and to reveal any significant differences in proportions not obvious from confidence intervals, we computed two proportion Z-tests for independence for each pair of methods for each network size. These pairwise matrices of P values revealed even stronger conclusions than the graphs in Figure 4A,B, further confirming the statistically significant differences beyond what is obvious by visual inspection of the error bars. As they do not reveal any critical trends not visible in Figure 4A or B, we reserve these P value matrices for the Additional files [See Additional file 2].
Summary of simulation study
Over all network sizes between F-based and D-based templates, it is clear that F-based (frequency) templates not only maintain performance between exhaustive and sampled networks but also provide consistent success rates with increasing network sizes despite the exponential explosion of state space sizes. We were also interested to observe that in some cases, the inhibited reducibility of sampled state spaces actually contributed additional information to the computation of the larger template targets - in some cases actually improving their performance in sampled networks over their performance in maximally reduced state spaces. Template basin distribution percentage-based templates are sometimes useful in smaller networks and are the most effective in smaller, exhaustive networks as a more thorough alternative to the simpler, single-variable measures of POP, POW, and HPP, albeit at an increased computational cost.
Application to T-LGL leukemia network
In our previous work [5], we identified useful intervention targets using the single-variable measures in real-world networks for melanoma, the yeast cell cycle, and for human aging. Because we saw in our simulation study that no significant new information is revealed by template approaches in exhaustive state spaces, we do not apply our template approaches to those previously explored networks here. Instead, because of the robustness of the templates approach for large networks with sampled state spaces, we make application to a 43-variable network for large granular lymphocytic (T-LGL) leukemia where the single-variable measures have no usefulness.
Zhang et al. [34] have methodically constructed a model of the blood cancer T cell large granular lymphocyte (T-LGL) leukemia from hundreds of literature sources. The original study, as well as others based on variations of this large network [21], have searched for therapeutic targets and have even validated some experimentally. However, these predictions required expert-level topological reduction and simplification of the network in various ways. But because of the validated findings, this network makes an ideal situation in which to apply our approach, which is purely computational and requires no expert-level knowledge of the disease system. If our results on the larger, less simplified network are reasonable, our approach will be shown useful and applicable on large networks for which we may not have expert-level knowledge and/or the ability to systematically simplify.
Conclusions
Our work thus far has clearly established a usefulness in analyzing basins of attraction in identifying intervention targets. Our use of logic minimization reduces the representation of basins of attraction, and the template measures stratify the terms, revealing not only the key players in the system but also how to manipulate them. Perhaps the most important aspect of our revealed intervention targets is the fact that they are both basin- and value-specific; in other words, we provide not just targets, but how exactly to intervene (value) and also a context in which the intervention is appropriate (basin).
With small network sizes (less than 20), it is likely that many variables will either be important in some way (known beforehand) or may even represent an amalgamation of multiple entities. Thus, intervention targets revealed may be true, but they may also be obvious depending on the study. This, along with the fact that the single-variable measures fail in larger networks requiring a sampled state space, motivated our work to expand our approach for larger networks with dozens of variables and more, allowing us to include variables which are less well known and that may not be obvious intervention targets. By introducing the template counting approach to supersede the small network popularity and power measures, we have made possible the identification of powerful intervention targets despite sampled state spaces.
We first demonstrated the maintained success proportions of frequency-based template interventions between exhaustively enumerated and sampled state spaces. Convinced that key information was preserved by the measures despite sampling, we next showed the consistent success proportions across networks of increasing sizes as other methods fell away in performance. These investigations into robustness convinced us that the template approach was sure to provide the critical information needed regarding intervention targets.
We have also demonstrated the efficacy of the approach on a larger T-LGL leukemia network crafted by domain experts. We note that when all single-variable measures were unable to produce helpful intervention targets, the template-based approaches did produce single and multi-variable intervention targets with high intervention success rates. In the end, the template-based analysis revealed the most powerful triggers for altering network dynamics into desired attractor basins, and these results were realized, and in many cases, biologically corroborated, on a network with over 8 trillion states in the basin of attraction field based sampling only 50,000 initial states.
Despite the progress in sampling large state spaces, we will always be limited by the exponential growth of the state space with the number of variables. Fortunately as network sizes race into intractability, so too does the reliability of such networks, which is a direct influence on the quality of our results. In the end, our measures will always reveal the true triggers of network dynamics based on the given rules of the system. Thus, while they are capable of revealing novel biological insights, they may also reveal or confirm sensitivities in the network rule system that may or may not be desirable for a particular biological model. Since there are quality handmade networks with sizes into the dozens of variables, such as our T-LGL leukemia network, a Drosophila network from Albert et al. [6], and others, our leap to the 40 to 50 variable size level is significant. With improvements to algorithm implementation and with the incorporation of parallelization, we plan to improve the large networks approach in terms of speed and network size capability, ideally towards the 75 to 100 variable mark. At the same time, we also wish to incorporate the ability to prefer certain variables over others as template members if information regarding the downstream effects of intervention reveals possible redundancies. In addition, because interventions can and do alter the rule structure of the network, we wish to investigate the use of the PBN model, which is a stochastic extension of Boolean networks and is able to model such changes in biological context. In such cases, basins of attraction would need to be revised to reflect the new stochastic behavior, especially the steady-state distributions of PBNs, as these distributions reflect the long-run behavior of the network [13].
Endnotes
a We adhere to the traditional, synchronous update scheme due to its origins in relating attractors to biological cell types [9] and because its determinism is exploited by our analysis approach. Some validly claim that real biological systems do not 'march in step' and that asynchronous update mechanisms are more appropriate [25],[26]. Recent work [26],[35] comparing asynchronous update approaches identified the general asynchronous (GA) method, wherein a random node is updated at each time step, as superior. However, because neither do real biological systems 'take turns' updating, because synchronous networks are able to be analyzed by our methods without the dramatic reduction seen with asynchronous network analysis, because the nondeterminism associated with asynchronous networks may invalidate Kauffman's hypothesis relating attractors to cell types, and because that synchronicity is still related to living systems [24], we work under the synchronous assumption even though there is no perfect answer.
b Harmonic mean (H) is one kind of average. For two numbers, x and y, .
c Step 1 of this algorithm is a simple partitioning of the total iterations, and thus has a constant overhead. Step 2 of this algorithm is governed by the value K. In practice, K will be a small number and certainly much less than (and not dependent upon) n. Step 3 executes once for each unique template, namely, times. It is known that the binomial coefficient is bounded above by (n×e/k) k [29]. Step 4 executes once for each term, where the number of terms is at most 2 n (i.e., no logic minimization at all). Steps 5 and 6 are a constant time operation. Because all steps are nested, the runtime is a product, from which constants can be removed, bounded above by a constant factor of 2 n .
Abbreviations
D or TBDP:

template basin distribution percentage
F or FREQ:

frequency (based template)
HPP:

harmonic mean of POP and POW
KxFREQ or KxTBDP:

F- or D-based template with x variables (i.e., K1FREQ: K2TBDP, etc.)
POP:

variable popularity
POW:

variable power
Declarations
Acknowledgments
The authors wish to thank Dr. Andy Wuensche and Dr. Dan Bryce for helpful discussions. MV was partially supported by a grant from The Citadel Foundation.
Authors' Affiliations
(1)
Department of Mathematics and Computer Science, The Citadel, Charleston, USA
(2)
Integrated Cancer Genomics Division, Translational Genomics Research Institute, Phoenix, USA
References
SA Kauffman, The Origins of Order: Self-Organization and Selection in Evolution, 1st edn. (Oxford University Press, 1993).Google Scholar
Ekins S, Wrighton SA: Application of in silico approaches to predicting drug-drug interactions. J. Pharmacol. Toxicol. Methods 2001, 45: 65-69. [http://dx.doi.org/10.1016/s1056-8719(01)00119-8]View ArticleGoogle Scholar
A Wuensche, in Pacific Symposium on Biocomputing, 3. Genomic regulation modeled as a network with basins of attraction, (1998), pp. 89–102. ., [http://view.ncbi.nlm.nih.gov/pubmed/9697174]Google Scholar
Li F, Long T, Lu Y, Ouyang Q, Tang C: The yeast cell-cycle network is robustly designed. Proc. Natl. Acad. Sci. USA 2004,101(14):4781-4786. [[http://dx.doi.org/10.1073/pnas.0305937101]View ArticleGoogle Scholar
M Verdicchio, S Kim, Identifying targets for intervention by analyzing basins of attraction. Pac. Symp. Biocomput, 350–361 (2011). ., [http://view.ncbi.nlm.nih.gov/pubmed/21121062]Google Scholar
Albert R, Othmer HG: The topology of the regulatory interactions predicts the expression pattern of the segment polarity genes in Drosophila melanogaster. J. Theor. Biol 2003, 223: 1-18. [http://dx.doi.org/10.1016/S0022-5193(03)00035-3]MathSciNetView ArticleGoogle Scholar
Yu J, Smith VA, Wang PP, Hartemink AJ, Jarvis ED: Advances to Bayesian network inference for generating causal networks from observational biological data. Bioinformatics 2004,20(18):bth448-3603. [http://dx.doi.org/10.1093/bioinformatics/bth448]View ArticleGoogle Scholar
Smith VA, Jarvis ED, Hartemink AJ: Evaluating functional network inference using simulations of complex biological systems. Bioinformatics 2002,18(suppl 1):S216—224. [http://dx.doi.org/10.1093/bioinformatics/18.suppl_1.S216]View ArticleGoogle Scholar
Kauffman S: Metabolic stability and epigenesis in randomly constructed genetic nets. J. Theor. Biol 1969,22(3):437-467. [http://dx.doi.org/10.1016/0022-5193(69)90015-0]View ArticleGoogle Scholar
T Akutsu, S Miyano, S Kuhara, Identification of genetic networks from a small number of gene expression patterns under the Boolean network model. Pac. Symp. Biocomput, 17–28 (1999). ., [http://view.ncbi.nlm.nih.gov/pubmed/10380182]Google Scholar
Shmulevich I, Saarinen A, Harja Yli-O, Astola J: Inference of genetic regulatory networks via best-fit extensions.In Computational and Statistical Approaches to Genomics Edited by: Zhang W, Shmulevich I. Kluwer Academic Publishers, Boston; 2003, 197-210. [http://dx.doi.org/10.1007/0-306-47825-0_11]View ArticleGoogle Scholar
Lähdesmäki H, Shmulevich I, Yli-Harja O: On learning gene regulatory networks under the boolean network model. Mach. Learn 2003, 52: 147-167. [http://dx.doi.org/10.1023/A:1023905711304]View ArticleMATHGoogle Scholar
Shmulevich I, Dougherty ER, Kim S, Zhang W: Probabilistic Boolean networks: a rule-based uncertainty model for gene regulatory networks. Bioinformatics 2002,18(2):261-274. [http://dx.doi.org/10.1093/bioinformatics/18.2.261]View ArticleGoogle Scholar
Datta A, Choudhary A, Bittner ML, Dougherty ER: External control in Markovian genetic regulatory networks. Mach. Learn 2003, 52: 169-191. [http://dx.doi.org/10.1023/A:1023909812213]View ArticleMATHGoogle Scholar
Datta A, Choudhary A, Bittner ML, Dougherty ER: External control in Markovian genetic regulatory networks: the imperfect information case. Bioinformatics 2004,20(6):924-930. [http://dx.doi.org/10.1093/bioinformatics/bth008]View ArticleGoogle Scholar
Pal R, Datta A, Bittner ML, Dougherty ER: Intervention in context-sensitive probabilistic Boolean networks. Bioinformatics 2005,21(7):1211-1218. [http://dx.doi.org/10.1093/bioinformatics/bti131]View ArticleGoogle Scholar
Choudhary A, Datta A, Bittner ML, Dougherty ER: Intervention in a family of Boolean networks. Bioinformatics 2006,22(2):226-232. [http://dx.doi.org/10.1093/bioinformatics/bti765]View ArticleGoogle Scholar
Bryce D, Verdicchio M, Kim S: Planning interventions in biological networks. ACM Trans. on Intell. Syst. Technol 2010,1(2):11. 10.1145/1869397.1869400View ArticleGoogle Scholar
Richardson KA: Simplifying Boolean networks. Adv. Complex Syst 2005,8(4):365-382. 10.1142/S0219525905000518MathSciNetView ArticleMATHGoogle Scholar
Dubrova E, Teslenko M, Tenhunen H: A computational scheme based on random Boolean networks. In Transactions on Computational Systems Biology X, Volume 5410 of Lecture Notes in Computer Science. Edited by: Priami C, Dressler F, Akan O, Ngom A. Springer, Berlin, Heidelberg; 2008:41-58. dx.doi.org/10.1007/978-3-540-92273-5_3 [10.1007/978-3-540-92273-5_3]Google Scholar
Saadatpour A, Wang RS, Liao A, Liu X, Loughran TP, Albert I, Albert R: Dynamical and structural analysis of a T cell survival network identifies novel candidate therapeutic targets for large granular lymphocyte leukemia. PLoS Comput. Biol 2011,7(11):e1002267+. [http://dx.doi.org/10.1371/journal.pcbi.1002267]View ArticleGoogle Scholar
Naldi A, Remy E, Thieffry D, Chaouiya C: Dynamically consistent reduction of logical regulatory graphs. Theor. Comput. Sci 2011,412(21):2207-2218. [http://www.sciencedirect.com/science/article/pii/S0304397510005839]MathSciNetView ArticleMATHGoogle Scholar
Willadsen K, Wiles J: Robustness and state-space structure of Boolean gene regulatory models. J. Theor. Biol 2007,249(4):749-765. [http://dx.doi.org/10.1016/j.jtbi.2007.09.004]MathSciNetView ArticleGoogle Scholar
C Gershenson, ed. by J Pollack, M Bedau, P Husbands, T Ikegami, and RA Watson. Updating schemes in random Boolean networks: do they really matter? in Artificial Life IX, Proceedings of the Ninth International Conference on the Simulation and Synthesis of Living Systems (MIT Press, 2004), pp. 238–243. ., [http://arxiv.org/abs/nlin/0402006]Google Scholar
Thomas R: Boolean formalization of genetic control circuits. J. Theor. Biol 1973,42(3):563-585. [http://www.sciencedirect.com/science/article/pii/0022519373902476]View ArticleGoogle Scholar
I Harvey, T Bossomaier, in Proceedings of the Fourth European Conference on Artificial Life (ECAL97). Time out of joint: attractors in asynchronous random Boolean networks, (1997), pp. 67–75. ., [http://citeseerx.ist.psu.edu/viewdoc/summary?doi=10.1.1.48.6693]Google Scholar
Marcovitz A: Introduction to Logic Design. McGraw-Hill Science/Engineering/Math, New York; 2002.Google Scholar
RL Rudell, AL Sangiovanni-Vincentelli, ESPRESSO-MV, in Proc. of the IEEE Custom Integrated Circuits Conference Algorithms for multiple valued logic minimization. (IEEE New York, 1985).Google Scholar
TH Cormen, CE Leiserson, RL Rivest, C Stein, Introduction to Algorithms, Third Edition, 3rd edn (The MIT Press, 2009). ., [http://portal.acm.org/citation.cfm?id=1614191]MATHGoogle Scholar
A Wuensche, Exploring Discrete Dynamics (Luniver Press, 2011).MATHGoogle Scholar
Wuensche A: Discrete Dynamics Lab: tools for investigating cellular automata and discrete dynamical networks, chapter 8.In Artificial Life Models in Software Edited by: Komosinski M, Adamatzky A. Springer London, London; 2009, 215-258. [http://dx.doi.org/10.1007/978-1-84882-285-6_8]View ArticleGoogle Scholar
D'agostino RB, Chase W, Belanger A: The appropriateness of some common procedures for testing the equality of two independent binomial populations. Am. Stat 1988,42(3):198-202. [http://dx.doi.org/10.1080/00031305.1988.10475563]Google Scholar
Knezevic A: Overlapping Confidence Intervals and Statistical Significance. Cornell Statistical Consulting Unit, Ithaca; 2008.Google Scholar
Zhang R, Shah MV, Yang J, Nyland SB, Liu X, Yun JK, Albert R, Loughran TP: Network model of survival signaling in large granular lymphocyte leukemia. Proc. Natl. Acad. Sci 2008,105(42):16308-16313. [http://dx.doi.org/10.1073/pnas.0806447105]View ArticleGoogle Scholar
Saadatpour A, Albert I, Albert R: Attractor analysis of asynchronous Boolean models of signal transduction networks. J. Theor. Biol 2010,266(4):641-656. [http://dx.doi.org/10.1016/j.jtbi.2010.07.022]MathSciNetView ArticleGoogle Scholar
RA Weinberg, The Biology of Cancer HB, 1st edn (Garland Science, 2006). ., [http://www.amazon.com/exec/obidos/redirect?tag=citeulike07-20%26path=ASIN/0815340788]Google Scholar
Yang J, Liu X, Nyland SB, Zhang R, Ryland LK, Broeg K, Baab KTT, Jarbadan NRR, Irby R, Loughran TP: Platelet-derived growth factor mediates survival of leukemic large granular lymphocytes via an autocrine regulatory pathway. Blood 2010, 115: 51-60. [http://dx.doi.org/10.1182/blood-2009-06-223719]View ArticleGoogle Scholar
Lamy T, Liu JH, Landowski TH, Dalton WS, Loughran TP: Dysregulation of CD95/CD95 ligand-apoptotic pathway in CD3(+) large granular lymphocyte leukemia. Blood 1998,92(12):4771-4777. [http://view.ncbi.nlm.nih.gov/pubmed/9845544]Google Scholar
Copyright
© Verdicchio and Kim; licensee Springer. 2014
This article is published under license to BioMed Central Ltd. This is an Open Access article distributed under the terms of the Creative Commons Attribution License (http://creativecommons.org/licenses/by/2.0), which permits unrestricted use, distribution, and reproduction in any medium, provided the original work is properly cited.