Model-based analysis of an adaptive evolution experiment with Escherichia coli in a pyruvate limited continuous culture with glycerol
EURASIP Journal on Bioinformatics and Systems Biology
2012
2012:14
Received: 8 January 2012
Accepted: 10 September 2012
Published: 3 October 2012
Abstract
Bacterial strains that were genetically blocked in important metabolic pathways and grown under selective conditions underwent a process of adaptive evolution: certain pathways may have been deregulated and therefore allowed for the circumvention of the given block. A block of endogenous pyruvate synthesis from glycerol was realized by a knockout of pyruvate kinase and phosphoenolpyruvate carboxylase in E. coli. The resulting mutant strain was able to grow on a medium containing glycerol and lactate, which served as an exogenous pyruvate source. Heterologous expression of a pyruvate carboxylase gene from Corynebacterium glutamicum was used for anaplerosis of the TCA cycle. Selective conditions were controlled in a continuous culture with limited lactate feed and an excess of glycerol feed. After 200–300 generations pyruvate-prototrophic mutants were isolated. The genomic analysis of an evolved strain revealed that the genotypic basis for the regained pyruvate-prototrophy was not obvious. A constraint-based model of the metabolism was employed to compute all possible detours around the given metabolic block by solving a hierarchy of linear programming problems. The regulatory network was expected to be responsible for the adaptation process. Hence, a Boolean model of the transcription factor network was connected to the metabolic model. Our model analysis only showed a marginal impact of transcriptional control on the biomass yield on substrate which is a key variable in the selection process. In our experiment, microarray analysis confirmed that transcriptional control probably played a minor role in the deregulation of the alternative pathways for the circumvention of the block.
Keywords
Metabolic Network
Alternative Pathway
Adaptive Evolution
Metabolic Model
Corynebacterium Glutamicum
Introduction
Since the long term evolution experiment of Lenski et al.[1], laboratory evolution has attracted much attention[2]. They demonstrated the adaptive behavior of mircoorganisms through shaking flask experiments with regular transfer in fresh culture media[1]. Already, Hoefle et al.[3] reported the presence of selective pressure in chemostat experiments. In the fermentation process, the adaptive evolution of the organisms occurs through random genetic mutation and controlled selection[4]. This process exhibits considerable potential for the design of industrial production strains[5]. Small product yields, slow growth, evolutive instability of mutated strains or toxicity of byproducts are limiting factors that are expected to be tackled with adaptive evolution[6]. Additionally, understanding of how environmental conditions shape the metabolism can be enhanced through adaptive evolution. A fine-tuning of enzyme expression levels balancing the cost and burden of protein production was demonstrated by Dekel et al.[7]. The genetic basis for such short-term evolutions has been intensely studied by using genome resequencing technology[8]. However, the genetic basis of adaptations is not always obvious. For example, a rewiring of the regulatory network is reported to be a source of adaptation[9] in the tolerance of E. coli to ethanol. Models for evolving regulatory networks were developed by Crombach et al.[10] and Xie et al.[11]. Constraint-based models of the metabolism are already in use for predicting maximal yields of organisms and optimal outcomes of adaptive evolution[12].
Here, we present the concept of an adaptive evolution experiment in a bioreactor. In such a process, the evolutive pressure on the microorganisms for either fast growth or optimal biomass yield on a limiting substrate can be used to attain or improve the production of a desired compound. Motivated to know possible endpoints of the evolution experiment, we developed an algorithm for computing the endpoints of such an experiment. These endpoints are alternative flux distributions for the circumvention of a metabolic block. We further examined the role of a regulatory network in the usage of the alternative flux distribution and we validated the model by microarray analysis.
Adaptive Evolution Experiment
The experiment utilized a mutant of the intestinal bacterium Escherichia coli which lacks both the pyruvate kinases PykA/PykF and the phosphoenolpyruvate carboxylase (Ppc). The pyruvate kinases are expected to be the main source of pyruvate on a glycerol minimal medium[13]. The Ppc reaction replenishes the tricarboxylic acid cycle (TCA) with oxaloacetate derived from phosphoenolpyruvate. It can serve as an alternative endogenous pyruvate source because oxaloacetate can be converted back to pyruvate. The Ppc reaction is reported to be an essential reaction on glycerol minimal medium[14]. As replacement for the anaplerotic reaction of Ppc the pyruvate carboxylase gene (pyc) of Corynebacterium glutamicum was inserted into the chromosomal malEG locus under control of the tac-promotor. The Pyc enzyme catalyzes the carboxylation of pyruvate to form oxaloacetate[15].
Pyruvate is a precursor metabolite for several amino acids and also charges the TCA cycle. This is essential for the growth of the organism. Due to the knock outs, this strain F41
malE::pyc
is pyruvate-auxotrophic (see Figure
1
). In contrast to our observation, Nakahigashi et al.[
16
] reported growth on glycerol of a
Δ
ppc
Δ
pykAF
multiple mutant in their knockout study.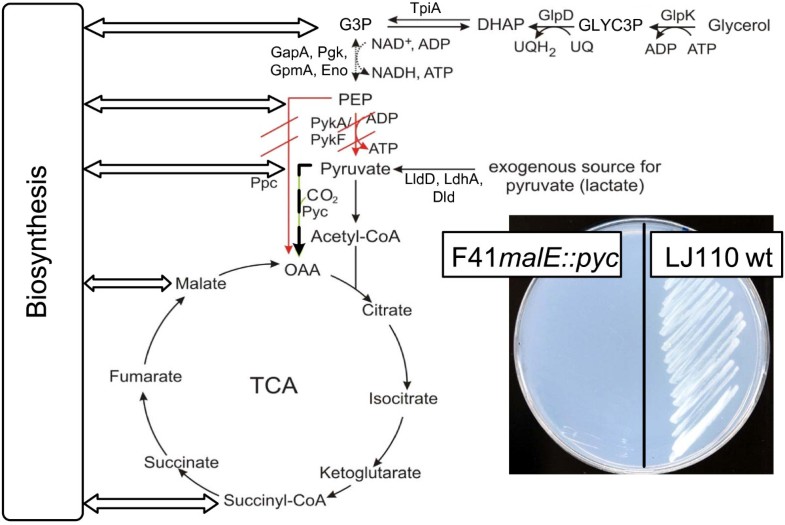 In the bioreactor, F41malE::pyc was fed with two carbon sources: Glycerol as main carbon source and lactate, which can be converted to pyruvate by one enzymatic step (Figure1). By limiting the supply of lactate, an evolutive pressure was applied to the population in the bioreactor. Through random mutation events (e.g., in regulatory sequences of in genes encoding regulators, or in enzymes) some mutants may modify the biomass yield. Mutants that generate more biomass from the limiting substrate tend to prevail against less efficient mutants. In the experiment, adaptive evolution proceeded until the established mutant became independent from the external pyruvate source and was again pyruvate prototrophic on glycerol. The bioreactor was being operated continuously. Both the dilution rate D[h−1] and the input concentration of lactate were controlled to facilitate the prevalence of mutants with an improved yield[17].
The evolved pyruvate-prototrophic mutants had to use alternative endogenous pathways to produce pyruvate. These alternative pathways may proceed via biotechnological interesting compounds, such as the amino acids serine, or tryptophane, or as the aromatic pathway intermediate: chorismate.
Hence, the production of pyruvate was not the goal, but a means to attain interesting byproducts of the alternative pathways (Figure
2
). In the following section, we will use a metabolic network model to explore the possibilities of evolutive adaptation[
12
].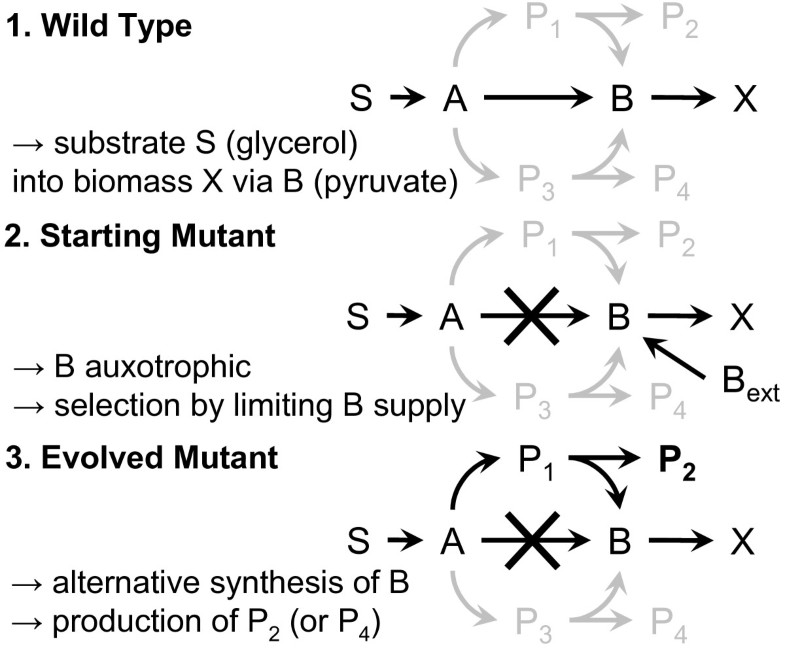 Model
The genome-scale metabolic reconstruction iAF1260[18] contains 2077 reactions, 1039 metabolites, and additional thermodynamic information. Orth et al.[19] reviewed current flux balance analysis methods to give an overview of the possibilities of working with constraint based models. The following section analyzes the solution space of the network iAF1260 with respect to adaptive evolution.
Conclusion
We have illustrated the idea of an adaptive evolution experiment in a chemostat bioreactor, where mutation and selection led to circumvention of a metabolic block. Constraint-based methods were utilized to identify targets for blocks and to predict alternative pathways for this circumvention. We performed the experiment with a pyruvate-auxotrophic strain F41malE::pyc on glycerol with an additional pyruvate source. The introduced algorithm for the computation of alternative pathways was employed to predict pathways from glycerol to pyruvate as possible endpoints of evolution for the strain F41malE::pyc. The evolution experiment with F41malE::pyc resulted in five evolved strains. This proved that the usage of alternative pathways was possible after adaptive evolution. However, F41malE::pyc was unable to grow without a pyruvate source. We assumed that transcriptional restriction of the predicted pathways hindered the growth. Therefore, a Boolean transcription factor network (TFN) was employed to further restrict the solutions of the metabolic network (MN). The prediction of the TFN together with microarray analysis revealed that in this case it is improbable that transcriptional regulation was exclusively responsible for the activation of the proposed alternative pathways during adaptation. It was shown that mRNA of genes which are important for the functionality of the predicted pathways were present in all compared strains.
However, a clear elucidation of the course of genetic events during adaptation was not yet possible. Metabolic feedbacks and non-regulatory effects may play an important role. We believe that the TFN will help to support further analysis by giving the possibility to determine the regulatory effects of metabolic and environmental signals and to distinguish between cause and effect of the up/down regulation of a gene. This will warrant further study in the field of transcription factor networks and their input in order to understand the whole sequence of events during adaptive evolution.
Materials and methods
Strains, medium, and growth conditions
The strains used in the experiments are listed in Table
2
. The minimal medium (MM) (modified after[
29
]) used for all experiments consisted of 4.7 g NaH
2
PO
4
·2 H
2
O, 11.5 g K
2
PO
4
, 2.64 g (NH
4
)
2
SO
4
, 0.74 g MgSO
4
·7H
2
O, 14.7 mg CaCl
2
·2H
2
O, 13.5 mg ZnCl
2
, 2.8 mg FeSO
4
·7H
2
O, 10
μ
l 1N HCl, 20 mg Thiamine, 0.2 mM IPTG per liter. In shaking flask experiments 0.5% (w/v) glycerol was used as carbon source. When a mixture of glycerol and D,L-lactate was used the concentrations were 0.4% glycerol and 0.1%
D
L
-lactate in order to have constant carbon availability in all experiments. Cells were cultivated in 250 ml shaking flasks filled with 25 ml growth medium. Prior to use, the cells were streaked onto LB-agar plates freshly from −80°C frozen stocks and incubated overnight at 37°C. Single colonies from LB-agarplates were then adapted to growth on minimal medium on MM agar plates for three days. Cultures were initiated directly from MM agar plates at OD600 = 0.1. After overnight incubation at 37°C without shaking the cells were grown at 37°C and 70 rpm.
Bioreactor
Chemostat fermentations were performed in a Bioengineering fermentor KLF at 37°C, with stirring rate of 500–1000 rpm, an input air of 1 L/min, controlled pH at 7 and pO2 was kept above 50%. The feeding contained MM with 5 g/L glycerol and lactate concentrations in the range from 0.125 g/L down to 0 g/L of 95% L-lactate. The last 100 fermentation hours the feeding contained no lactate. The glycerol concentration measured in the fermentation broth was close to zero.
Genome resequencing
For genome resequencing the cells were grown to stationary phase. Chromosomal DNA was isolated via Phenol/Chloroform precipitation[31]. The resequencing was performed by LGC Genomics (Berlin, Germany) using 454 FLX Titanium Sequencing. The sequence of K98-62 was mapped to the online available sequence of E. coli W3110 (AP009048.1).
Transcriptome analysis
For transcriptome analysis strains K98-62 and LJ110 were compared after growth on minimal medium containing glycerol as carbon source and K98-62 and F41malE::pyc were compared after growth on minimal medium containing glycerol and D,L-lactate as carbon source. Cells were harvested after reaching OD600 = 0.8. The DNA chips were custom-synthesized by Agilent company and processed according to the manufacture's instruction. A complete description of transcript data will be published elsewhere, but can be obtained from the authors directly.
The average expression is the mean value of all normalized Log2 spot intensities over all biological replicates and colors. If the average expression value of a mRNA was measured below 6 units, it is uncertain that the mRNA was present in the probe. If the fold change value was not significantly different from zero and the average expression value was above 7.0, we assumed that mRNA of a gene was present in both compared strains. Observing significant fold change values, we studied the strain specific average expression to assess whether mRNA was present or not. The mean average expression value over all spots was 6.93 in the comparison K98-62 versus wild type and 7.37 for K98-62 versus F41malE::pyc. Data to estimate the enzymatic capability of the predicted pathways was included in Additional file1: Table S1.
Constraint based model analysis
In Equation (1), we regarded also ATP requirements for the maintenance metabolism JATPm in. Although the maintenance metabolism may vary on different substrates and in the evolved strains, we decided to fix the rate of this flux for the computations and therefore the value for an aerobic culture on glucose JATPm = 8.39[mmolh−1gDCW−1 from Feist et al.[18], which is a theoretical calculation. This value, however, does not influence the structure of the identified pathways, but it has an impact on the yield numbers in Figures4 and6.
Combination of iAF1260 and iMC1010v2: The computation of a regulatory model combined with metabolic model was outlined by Covert et al.[32]. The network iMC1010v2 was originally designed for the metabolic network iJR904[33]. The model extension iAF1260 has a much more detailed reaction of biomass formation. Hence, some reactions became essential due to model extension, but were downregulated by the iMC10010v2. We identified these reactions and made these independent from the Boolean regulatory model. Details are shown in Additional file2: Table S2.
Abbreviations
accoa:

Acetyl-CoA
prpp:

5-Phospho-α-D-ribose-1-diphosphate
acgam6p:

N-Acetyl-Dglucosamine6phosphate
pser:

Phospho-L-serine
akg:

Oxoglutarate
pyr:

Pyruvate
anth:

Anthranilate
r5p:

α-D-Ribose-5-phosphate
aspsa:

L-Aspartate-4-semialdehyde
ser-D/L:

D/L-Serine
chor:

Chorismate
skm:

Shikimate
cys-L:

L-Cysteine
succ:

Succinate
dha:

Dihydroxyacetone
thf:

Tetrahydrofolate
dhap:

Dihydroxyacetone-phosphate
thr-L:

L-Threonine
e4p:

D-Erythrose-4-phosphate
trp-L:

L-Tryptophan
fdp:

D-Fructose-1-6-bisphosphate
uacgam:

UDP-N-Acetyl-D-glucosamine
for:

Formate
10fthf:

10-Formyltetrahydrofolate
fum:

Fumarate
13dpg:

3-Phospho-D-glyceroyl-phosphate
f6p:

D-Fructose-6-phosphate
2ddg6p:

2-Dehydro3deoxy-D-gluconate6phosphate
glyc:

Glycerol
2dr1p:

2-Deoxy-D-ribose-1-phosphate
glyc-R:

R-Glycerate
2mcit:

2-Methylcitrate
glyc3p:

Glycerol-3-phosphate
2obut:

2-Oxobutanoate
g3p:

Glyceraldehyde-3-phosphate
2pg:

D-Glycerate-2-phosphate
ichor:

Isochorismate
23ddhb:

2-3-Dihydro-2-3-dihydroxybenzoate
lac-D/L:

D/L-Lactate
3pg:

3-Phospho-D-glycerate
malACP:

Malonyl-acyl-carrier-protein
3php:

3-Phosphohydroxypyruvate
malcoa:

Malonyl-CoA
4abz:

4-Aminobenzoate
mlthf:

5-10-Methylenetetrahydrofolate
4adcho:

4-Amino-4-deoxychorismate
mthgxl:

Methylglyoxal
4hbz:

4-Hydroxybenzoate
oaa:

Oxaloacetate
4pasp:

4-Phospho-L-aspartate
6pgc:

6-Phospho-D-gluconate.
Declarations
Acknowledgements
This study was funded by the German Research Foundation (DFG) priority program SPP 1395 InkoMBio (SA 847/11-2) and supported by the DFG funding program Open Access Publishing. We thank Karin Lemuth for her support with the microarray analysis, Natalie Trachtmann for the construction of strain F41malE::pyc and Silvia Lorenz for the labor-intensive analysis of the evolved strains in her diploma thesis.
Authors' Affiliations
(1)
Institute for System Dynamics, University of Stuttgart, Stuttgart, Germany
(2)
Institute of Microbiology, University of Stuttgart, Stuttgart, Germany
(3)
Institute of Communications Engineering, University of Ulm, Ulm, Germany
Copyright
© Feuer et al.; licensee Springer. 2012
This article is published under license to BioMed Central Ltd. This is an Open Access article distributed under the terms of the Creative Commons Attribution License (http://creativecommons.org/licenses/by/2.0), which permits unrestricted use, distribution, and reproduction in any medium, provided the original work is properly cited.